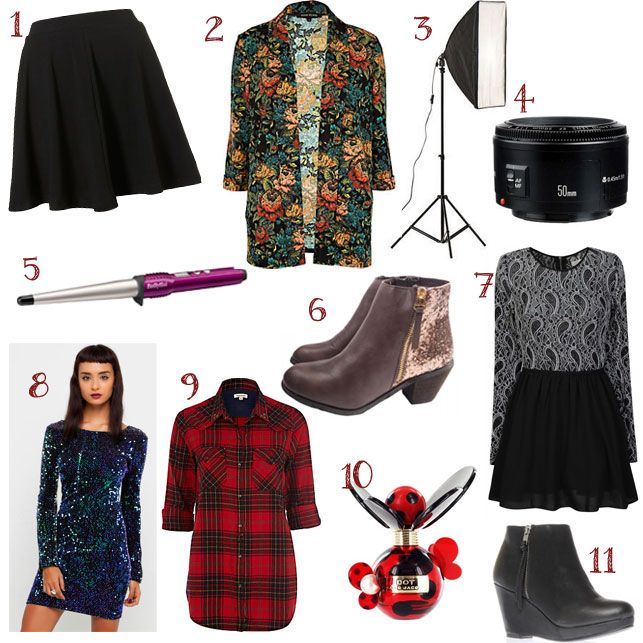 1. Topshop Skater Skirt £16.00 // 2. Floral Blazer £35.00 // 3. Softbox £64.99
4. Canon 50mm Lens £99.99 // 5. Curling Wand £19.99 // 6. Boots £25.00
7. Lace Skater Dress £37.99 // 8. Motel Sequin Dress £58.00 // 9. Check Shirt £30.00
10. Marc Jacobs Dot £47.00 // 11. Black Wedge Boots £75.00
I have literally had the best day today, I was offered not one but
both
of the jobs I had an interview for (tootaloot on my own trumpet) and I found out via a lovely email from
Kim
that I'd won the e-tail promotion competition for my
embarrassing dance video
! The prize?
Two hundred and fifty
english pounds! I was rather excited as the last thing I remember winning was a karaoke competition when I was four, I sang the bartman : / Obvs straight away I started mentally making wishlists and I think I may have gotten a little carried away as this bad boy comes up to a grand total of 508.96 - I'm going to have to make some cutbacks...
In other news I'm off to London with Thomas tomorrow and I'm really hoping this swollen throat thing (attractive) I have going on decides to leave. Our plan is to roam the streets and shop a plenty and I cannot wait. Once again we're staying in the easy hotel which I personally love, for under £50 a night who cares if you have to pay extra for a window?