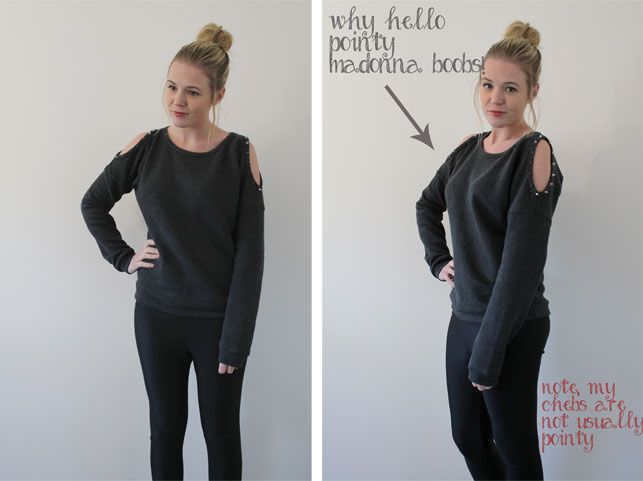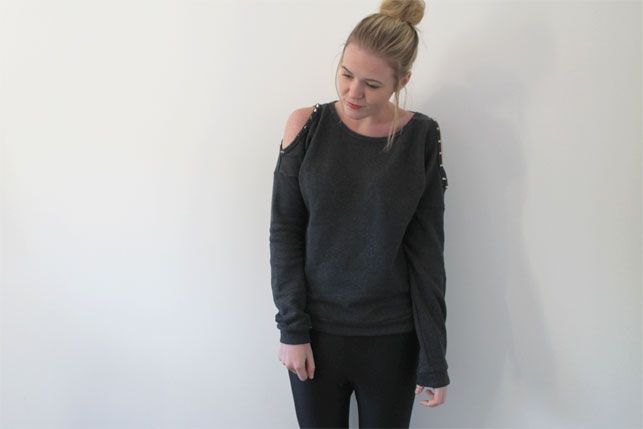 Studded Sweatshirt: c/o Glamorous
Disco Style Leggings: Ebay
I know I've already addressed the boob situation with the scrawlings on my photo, but can I just join everyone in a wtf? It looks like I'm harbouring traffic cones under there! No idea how my camera picked up on this as I'm not exactly gifted in that department.
Moving on I'm turning into a right little top knotter aren't I?, I just hope today's effort will make
Claire
proud as she is a topknot connoisseur . I was sent this jumper a few weeks ago by the lovely folk at etail on behalf of
Glamorous
and I feel quite "on trend" with it. It's not often I feel on trend, which is silly as I write a fashion blog, but sometimes I think I'm getting a bit too old to be rocking things like bralets and printed leggings.
In typical British style I'm going to note how horrible the weather has been today, and the fact that today is a Monday makes it even worse. There's nothing more disheartening than suffering the Sunday night dread then waking up to a sea of dreary and glum clouds on a Monday morning. I do have a few things planned this week to look forward to though which makes a change from my usual reality tv and chocolate feasts, for tomorrow I will be going to…..bingo. I know this is a hobby more suited to the elderly and those that don't brush their teeth on a regular basis, but once you get over the smell of the bingo hall it's actually quite fun! And it'll be nice if I can win some dollar before Christmas.