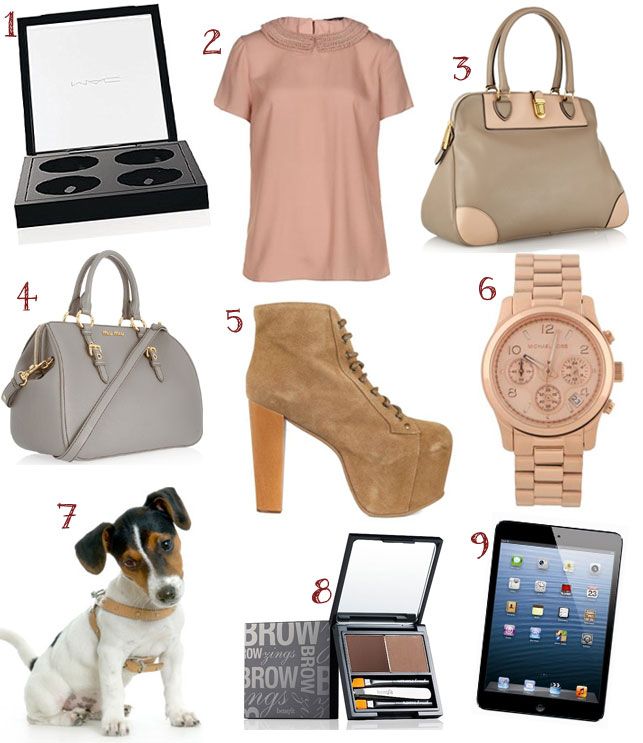 1.
Mac Pro Palette
£6.50 // 2. Ted Baker Blouse £99.00 // 3. Marc Jacobs Bag £1,065.00
4. Miu Miu Tote £850.00 // 5. Jeffrey Campbell Lita £84.00 // 6. Michael Kors Watch £229.00
7. Jack Russell Gimme // 8. Benefit Brow Zings £22.50 // 9. iPad Mini £269.00
I did one of these extravagant posts
last year
and actually managed to snag three of the eight things on there, although this year I've set my budget that
little (
over a grand bag anyone?) bit higher so I reckon I'm punching above my weight! Bargain of the day goes to
Cruise Fashion
for the £84 Litas, I don't even care that I'm late on every bandwagon, these are neutral and will go with anything. I also don't really need or have any use for the iPad mini, it just looks pretty and will fit nicely in any of these oh so beautiful bags - I just know I'm going to have handbag filled dreams tonight.
As for the Jack Russell I just think he'd be a cute little amigo for Theodore, they can relive so many disney movies and spend hours frolicing in the flat - that is if Theo doesn't claw his eyes out with his death pads...