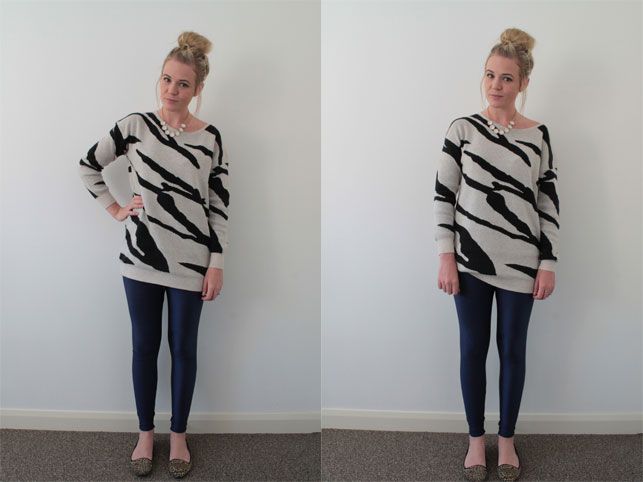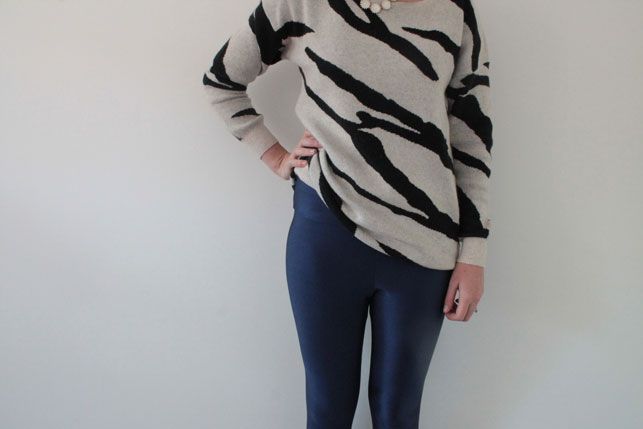 Jumper: c/o Missbehaver
Fake Disco Pants: Ebay
Leopard Slippers: Primark
Necklace: Newlook
My hand isn't superglued to my hip, honest.
Today has been a comfy day, and this jumper is the ultimate in comf. I really wasn't expecting it to be as soft as it is but was pleasantly surprised when unwrapping the lovely little parcel I was sent and I even rubbed it on my face a little bit. I realise that's a little bit odd and a while back I remember getting a lot of traffic from some creepy knitwear fetish site so I bet they'll all be rolling in vats of cotton wool imagining this now.... : /
So yes, I've wanted comfort as the day has included swapping over names at the bank, making new bank accounts, getting photo's developed, and eating a luke warm Gregs steak bake. And I did find time to pop into Primark to get some purple furry sequined slippers
but this is hell on a Saturday
. What is it about £12 sheer blouses that sends people into a frenzy? I could cope if it was just a case of being busy but it's not, people turn into animals! That alongside all the folk in the world that don't wash making an appearance in town today left me a bit grossed out so I trundled home and made a cup of tea....Oh god I have the social life of a pensioner.
I want to carry on writing but I'm not too sure how many people actually read the text that goes with an outfit post, especially as the highlight of my day has been the purchase of some slippers. With this in mind I'm beginning to feel like my life's at a bit of a standstill at the moment (promise I'm not gonna go all deep) and I want someone or something to throw me a big dollop of excitement, I know you're supposed to go out and make your own life happen but 1, I'm not too sure what it is I want, and 2. I'm a lazy Susan. I guess it's a simple case of post wedding/honeymoon blues that loadsa people told me about and no doubt next week I'll be bouncing off the walls after a glass of fizzy pop.