Hello! My name's Hayley and I blog over at
Strangeness & Charm
. Today I'm doing a guest post for Eloise while she's off sunning herself in Mexico and showing off her new bling! So while I'm stuck in miserable, rainy England I thought I'd tell you about my favourite lipstsicks for the autumn! For me, autumn is all about the dark reds, purple and burgundy colours - it's a great excuse to wear a darker lipstick. I prefer darker lip colours over bright pinks and corals so I've picked out my top five to show you today.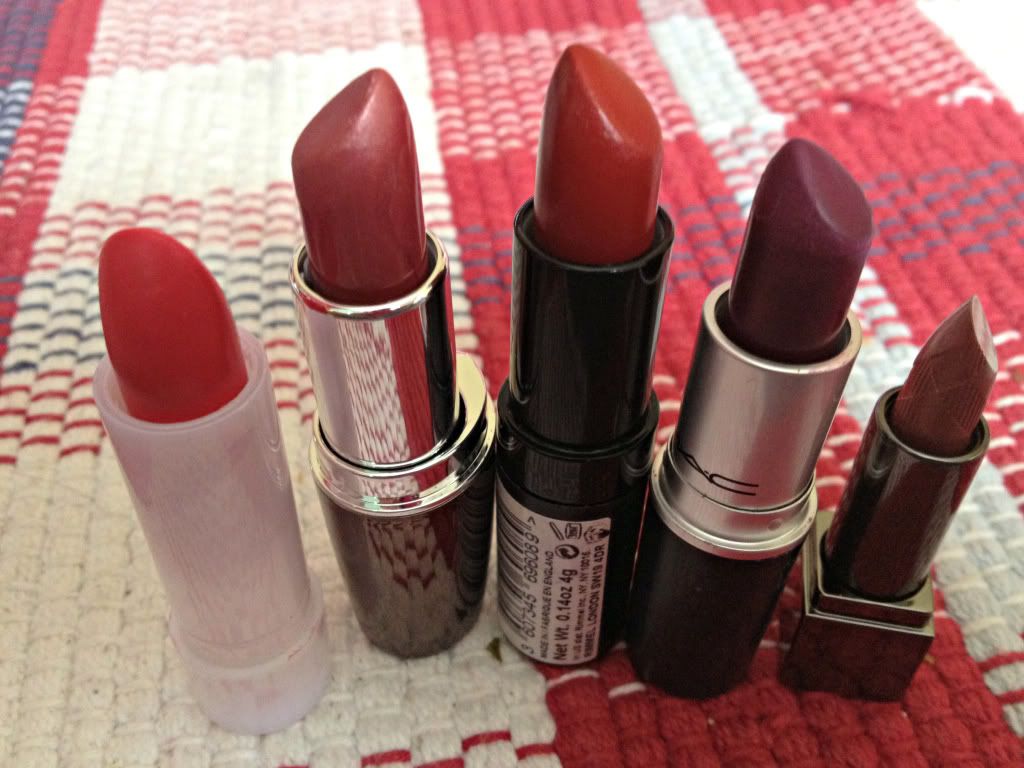 L-R: Natural Collection in Crimson - Vivo in Very Berry - Rimmel and Kate Moss in 01 - MAC in Rebel - Burberry Lip Cover in 04 Rosewood.
Despite being so cheap (£1.99 each) the Natural Collection and Vivo lipsticks are surprisingly moisturising and long lasting. I usually only have to top them up if I've eaten! I definitely recommend you check out both of these. It's a great way to try out different lip colours and the Natural Collection make up is usually on a 3 for £5 offer in Boots.
I haven't used the Rimmel x Kate Moss lipstick much as it needs a good lip liner but it's the perfect vampy dark red colour and is really long lasting too. I'll be wearing this a lot more this autumn now I've got a lip primer.
MAC's rebel may look scarily dark in the bullet but as you can see when swatched, it's quite a bright purple but the colour can be built up to be darker which is how I usually wear it. It makes a great change from the usual dark reds that I have in my collection.
My favourite of all these lipsticks is the Burberry miniature which came in the Harrods edition Glossybox. I love it so much that I finished mine up and had to track this one down on eBay! I will definitely buy the full sized version of this one day as it's the perfect 'My lips but better' shade and it lasts amazingly well.
Thank you Eloise for letting me guest post on your blog! I hope you're having a fantastic honeymoon and not missing England too much!