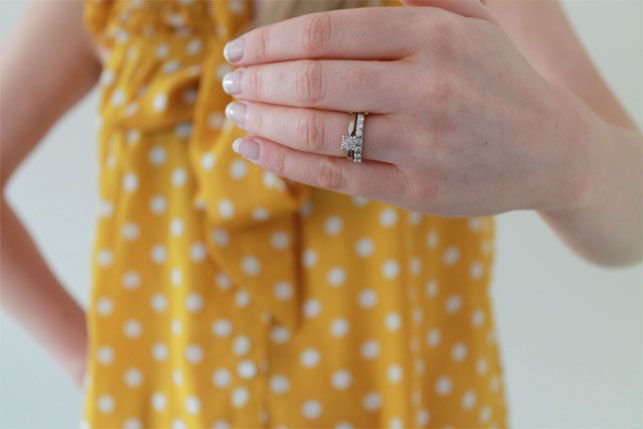 Blouse: c/o Miss Ikon
Pleather Leggings: h&m
Shoe Boots: c/o Miss Ikon
Not too sure what's happened with the first two photos, appols for the slight blur. When I was asked to choose an item of clothing from Miss Ikon I fell in love with this blouse and at first I wasn't too sure why - I never wear mustard and I'm usually all about the dresses, however I'm determined to get my mitts on a pair of disco pants at some point and I thought this would look rather swell with them. I'm now eyeing up the red version as the £11.99 price tag makes the disco pants seem less frivolous! When I was told I could also nab a pair of shoes I was in heel less shoe heaven, but practical Patricia told me wedges were probably the best way to go and I'm glad I listened to her.
Also just wanted to add a major thanks to everyone who sent me well wishes on Friday, twas an amazing day and I couldn't
not
show off my new ring so yes, I am a braggie Susan today! It's so true what people said to me though, the day does go
ridiculously
quickly but after all the horrific stress and last minute change of venue beforehand it went swimmingly and I got to shake ma booty in the evening to some Busta Rhymes so all was good : )
Once I get all the pictures back from the photographer I'll do a "propper" wedding posts but for now I'm off to admire the new Dyson and practice my new signature....I wish I was cool enough to be joking but alas I am not.