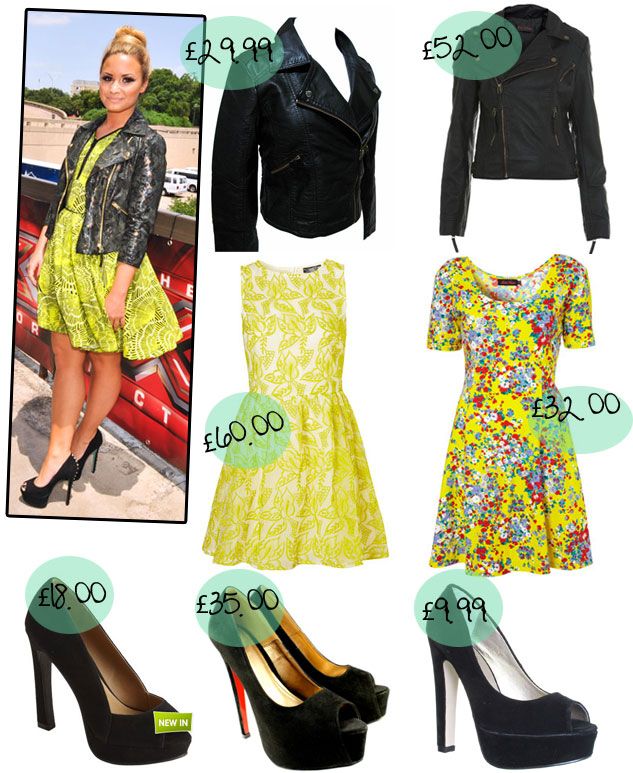 Ebay Leather Jacket // Miss Selfridge Leather Jacket
Topshop Skater Dress // Motel Rocks Dress
Shoes: Matalan // So You Shoes // Ebay
It's probably a bit wrong to admit as I was around 21 at the time it came out but I did love a bit of Camp Rock in my uni days and
may
have danced around my bedroom hollering "we rooockkk we rock on!" whilst getting ready for a night out. So when hearing that Demi Lovato (or Dee Dee lo Vee) is going to be a judge on American X Factor along side Britney Spears and Louis Walsh, I won't lie, I got a little bit excited. I love her style and as she doesn't go mad and wear all kinds of bizarre outfits it's pretty easy to copy on a budget, I'm guessing I'm not the only one though as the actual dress she wore to the Kansas X Factor auditions sold out on Topshop pretty quickly!
And on a final Demi-Note I'm just going to throw out there that I have major hair envy going on, why oh why won't mine grow?! I think I'm just going to have to admit defeat and buy one of these miracle hair growth cures.
If you like the look of the Motel dress then get to their SECRET SALE by clicking the image below, if you enter the code secretsale50 at the checkout you get a massive 50% off which means you could end up with the dress above in red for a mere £16! Wins.