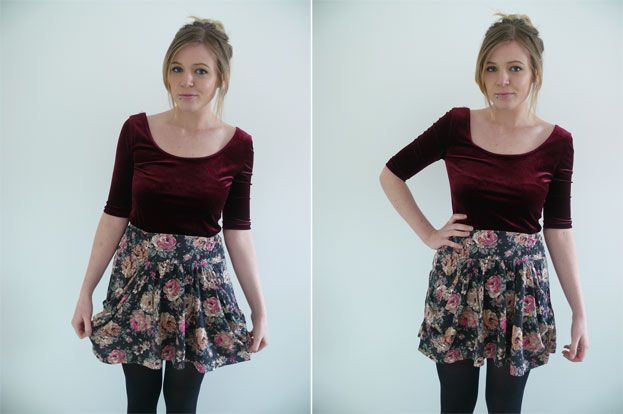 Skirt: Topshop (old)
Velvet Dress: Newlook (also old)
Today was one of those root through the depths of your drawers and wear the first thing you can find kind of day. Actually my version included a whole lotta lint brushing as Theo likes to make little cat beds out of everything at the moment and leaves incriminating ginger hairs
everywhere.
I can't say I'm overly fond of this outfit, it's just something I wore and something I photographed - ah you can see this is going to be an oh so creative type of post!
I'm a little disheartened actually, today I came home to the bridal undercrackers a la Debenhams and they don't fit, so my plan is to get measured tomorrow
for the first time in my life.
Yup I'm 24 and have never actually known my true cheb* size, I've just always feared some snooty woman with a bob trying to force me into buying £50 underwear whilst I panic and try to think of a way to escape to Primark. But fear the bobbed lady no more! For tomorrow I will saunter up cool as a cucumber (and as red as a raspberry) and politely ask someone to manhandle my breasts.
Well this post has certainly gone to places I didn't expect : / On that note I'm off to watch Made in Chelsea and find out what Kimberly has been up too.
*Chebs - Noun - An polite and humorous term spawned from the male used to name the breasts of a human female.