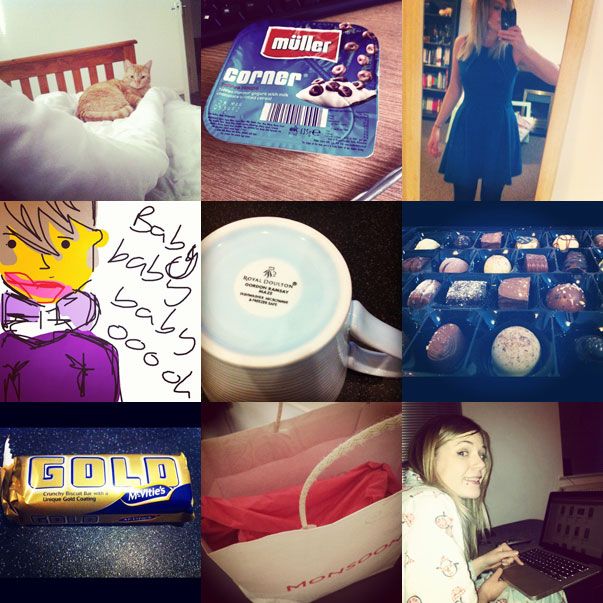 1. Waking up to the death stare every morning
2. Lunchtime obsession, I'll never convert to Muller Lights
3. No idea why I took this photo but I wore it shopping
4. Becoming a Drawsomething fan, draw me a picture wontcha? I'm imeloweez
5. Gordon Ramsay mugs for A POUND
6. Eating my weight in Thorntons thanks to
Laura
7. Re discovering Gold bars
8. Bridesmaid dress shopping without any bridezilla moments.
9. PJ chillin'
Going by these pictures it doesn't really look like much has happened in the month of March, infact every one of these I've done pretty much involves food : / Actually the month started off bloggery with the ldnlunch and ended bloggery with the motelrocks event where I got to see the lovely Rebecca again and meet
Kim
,
Becca
,
Lyzi
, Michelle and a tonne of others. Inbetween I visited Stoke with Thomas, finally send out my wedding invites, played a lot of tap the frog, finished watching Dexter (sob!), and came
this
close to taking a sledgehammer to my car.
And today is another typical Sunday for me with loads of tea and loads of channel 4 - after having my sister, her boyfriend and their baby visiting my little flat at the beginning of the weekend it now feels weird sitting in the quiet and being commotion free! So I'm now sat blogging with one tab open on the boots website, I must be stopped.