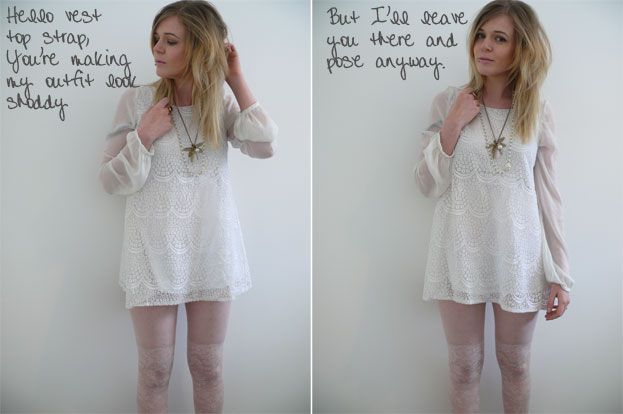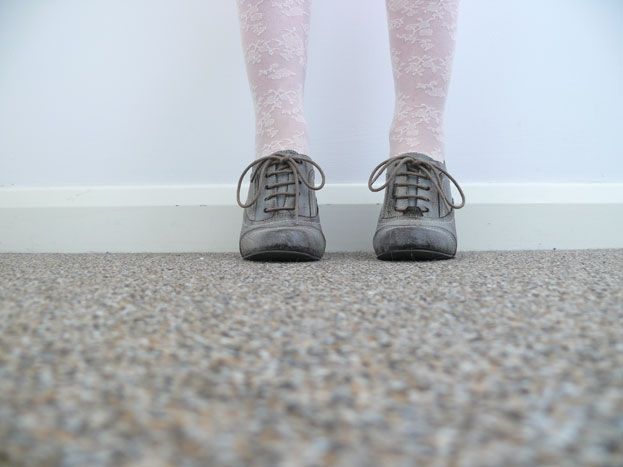 Dress: Primark
Shoes: Primark
Ring: c/o Rock 'n Rose
Necklace: Miss Selfridge
Tights: c/o Tightsplease
Why hello there can you tell I like lace? I also like Pixie Lott so knowing she also has this ring makes me like it even more. How many times can I say like?
One thing I don't like is having a replacement filling without an injection, this happened to me today and having someone drill through your teeth with no form of numbing at all is
not nice
although now I feel completely justified when I say "I'm double 'ard me". His excuse was that the ol' gums might still be sensitive after my last visit but it was clearly because he'd got needle happy last time and didn't want this to happen to me again, he obvs thought I was the Suing Susan type - although to be fair other than ringing Judge Judy I wouldn't even know where to start!
To compensate from the face throbbing I tried to feel pretty by donning these tights, yes they've been "c/o-ed" but my white chunky footballers legs have led me to become quite the fan of tights over the years, I've always played it safe and gone for the plain Janes so it's been quite nice parading around in these and pretending to be victorian. Thanks to tightsplease I'm now lusting after a million pairs and hoping the weather stays chilly enough for me to wear them!
Gah I've just realised what I've done, I've opened the floodgates of google search to all the creepy men who like nylon, I think it was Katy who made me aware of this, go away creepies, you're fetishes aren't welcome here!