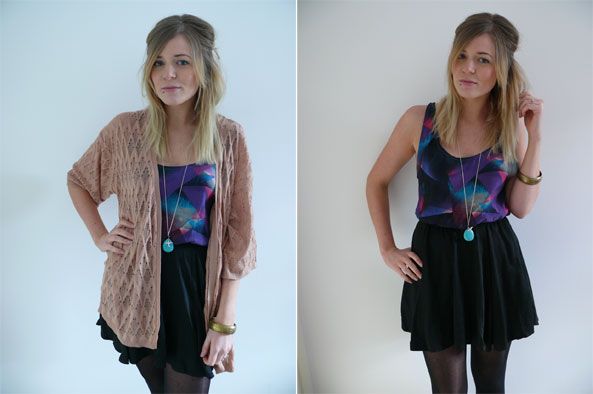 Cardigan: Newlook
Necklace: Primark
So here's my outfit for ldnlunch, I went with my usual leaving the house attire (whilst in the house I'm a complete slob and can be found lounging in tracky b's) of a dress and a cardigan and was rather happy with the result. I'm loving kimono type knits at the moment and this bad boi from Newlook seems to go with everything. Apologies for the word "boi", some drunks were shouting "He's an old stone island boiiiii" repeatedly on the train on the way home and I've adopted it as my own : / I'm also planning on trawling the internet for this dress in other prints, I swear I've seen a cosmic version somewhere and I'm determined to jaunt through the streets of Mexico wearing it.
In other really boring news I am now officially getting my save on for the wedding, there's loads of little things that just seem to get missed when you're working out a budget and I need to start hoarding all my pennies together to afford them. Like today I ambled into Staples to find a gold pen for the invites (cliche eh?) and slumped away 5.00 lighter. FIVE POUNDS for a gold and silver gel pen! I remember back in the day they were 99p each and those were for the swish Signos!
With my bitterness towards stationary in mind I'm going to have to think of some frugal blog posts, so rather than my usual materialistic "look at my pretty dress" pictures I was thinking of copying
Sara
and doing a question and answer video? If you want to ask me any type of question, be it anonymous or not, then you can leave it as a comment below or on my
formspring
and I'll attempt to answer it with my voicebox in the next week or so. The weirder the better in my opinion.