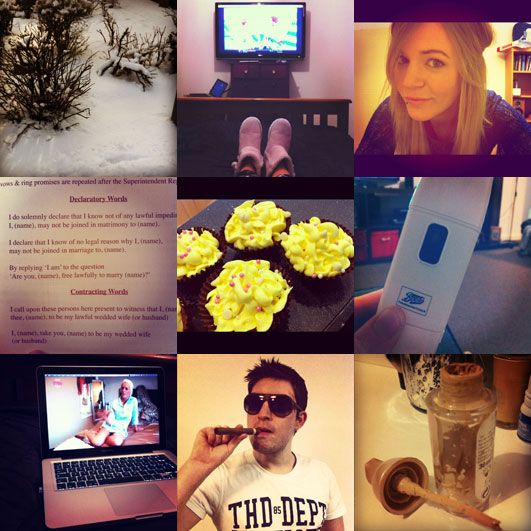 1. Snow! As if it's actually snowing again today as well. Madness.
2. My love for Dexter continues, pretty much did series three in about 3 days. About to start my eyes on series 4 today and I CANNOT WAIT. Although I will say I'm not liking Rita's new Hollywood look, go back to being dowdy I preferred you that way!
3. No reason for this photo really, except that I'm vain.
4. Choosing the words for the wedding, some of the choices are a bit gross, yeah we're getting married but I'm not about to serenade Thomas with sickening lovey dovey passages.
5. Made me some cupcakes, looked alright but tasted a bit like eating melted butter.
6. Babies?
7. Being banished to the other room to watch Sun Sex and Suspicious Parents, really makes me dislike LADZ.
8. Thomas modelling his new shades. Poser.
9. When there's still foundation left in the bottom but the pump just won't reach it, annoyance.
So that's my February. Kicked off March nicely with the London Lunch yesterday where I met and re met some people and got to stalk them in real life, everyone was lahvley and I'll be posting a load of pictures in the week - if anyone want's to pilfer any you have my permission in advance! The only slight downside was my Quesadilla, anyone else who ordered it feel a bit like they were eating a jar of tomato puree? This was obvz cancelled out by a million upsides, one of which was getting to go power crazy and control the music in the venue...oh yeah call me Annie Mac.
Oh and if you're reading this far down I'm not actually preggers cheggers, the number 6 photo is a nifty little coldsore machine I bought from boots which is supposed to blast away any little diseases that wish to grace my face. Nice.