I stumbled across a hideous webcam picture of myself from this time last year and was actually quite surprised at how much my bleach infested barnet had grown in 12 months. I've posted about my horiffic hair before
here
but in short through 2010 I became like a woman possessed on a mission for platinum hair and thought it would be an excellent idea to bleach it
once a month
until it started to snap off. I was left with a Tina Turner esque crop and the only option was to go natural for a year. So here's my progress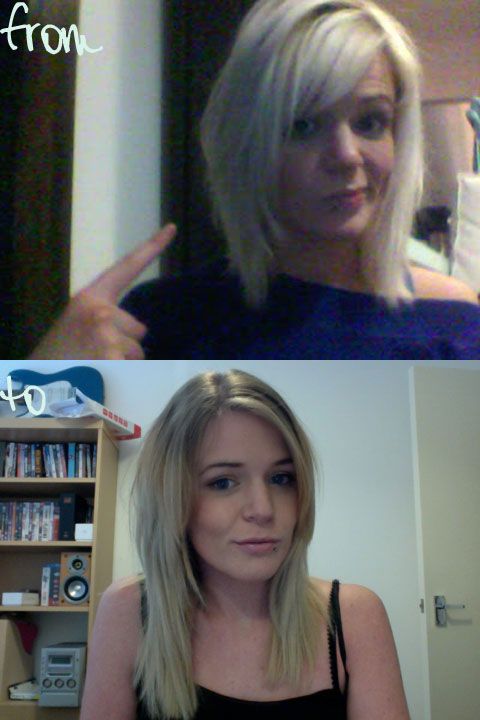 Not bad considering the advice I was given by Toni & Guy was to hack it all off and start from scratch! I thought I'd share some of the products I've been using that have seemed to help in my quest for long locks, here's a snap:
1) Umberto Giannini moisture mask
– A "drugstore" hair mask that I usually use when I don't have time to leave a more expensive mask on for ages. It's around £6.00, leaves my hair feeling soft, and smells gorgeous.
2) VO5 Give me Texture - This helps reduce the damage of backcombing and gives my hair so much volume, although Tom keeps getting his mitts on it which is a pain for me but shows it works on shorter hair too!
3) Label M intensive mask – I actually bought my first tub of this from Toni & Guy but they charged around £15, I've since found it on lookfantastic for £12. It's another intensive conditioner that I tend to leave on my hair for around 45 minutes, a bit time consuming but it's really improved the condition and strength of my hair.
4) Lee Stafford treatment – I'm not silly so I know this wasn't going to turn me into a Rapunzel, it's really just a clever name for a typical conditioning hair mask but it's a quick application and leaves my hair super soft. Boots put the brand on offer a lot so I'd definitely recommend getting it on 3 for 2.
5) Tangle Teezer – I lie as I've only had this for a couple of weeks but I couldn't not add it as it's amazing. I don't know how it works but it does. I'm tangle free and I love it.
6) Tresemme Heat Defence - This seems to help with breakage on the ends of my hair and smells nice, plus it's purse friendly.
If anyone else has posts on hair growth please link me! I need to get it as long as possible before August.