I mentioned in my last Liz Earle review that despite my skin not having the best reaction to the cleanse and polish, I was so impressed with how friendly and personal the emails from the company were. After not really getting on with the product I wasn't expecting to hear from them again but a few days later the lovely Laura asked if I wanted to try something that might be a bit friendlier to my sensitive skin and offered to send me the
Nourishing Botanical Body Cream
to try.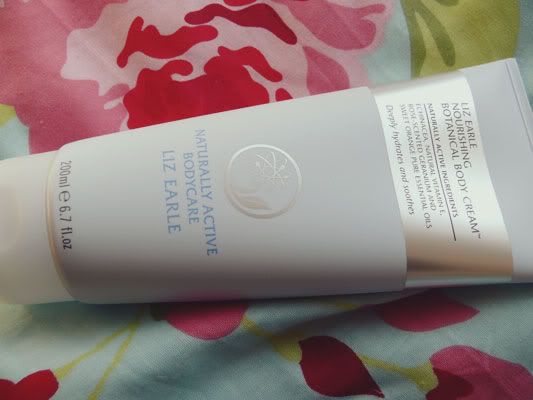 She suggested that after my last experience it may be a good idea to do a skin test with the product so after doing this and not noticing any visible blotches I lathered it all over my legs the day after a shave (tmi?) one morning before heading off to work. I usually have quite dry and sometimes scaly skin around my knees and shins which gets a lot worse after they've been mauled by a razor, so I was pleasantly surprised when changing into my pyjamas that night to find most of them gone. I even had fairly
soft
skin and this is a rarity for my
pins
legs!
The first thing I noticed about the product was the smell, it has a very fresh florally scent that hit me as soon as I started unwrapping the packaging. Once out of the bottle it does appear quite strong but as soon as it's rubbed in you're left with a clean feminine scent that dies down but is also quite long lasting.
This moisturiser has a very thick consistency which personally I prefer, it may take longer to rub in and leave your hands quite shiny but I always wash them afterwards anyway, and I've found that the majority of lower end products can be quite runny and don't usually end up doing the job as well.
Overall I rate the Body Cream a lot higher than the cleanse and polish but I am quite biased! It has really worked for me and it's even starting to soften up my elephant elbows which is a feat not many can achieve.