By the time I've faffed around making cups of tea and watching Desperate Housewives in the morning I don't really have time to be that adventurous with my makeup. I end up having the same face for about 3 months before I mix it up, like a less extreme Nicholas Cage/John Travolta scenario. So here's what I use.
Face: Maybelline Dream Satin Liquid
Garnier Roll on
Benefit Hello Flawless!
Max Factor bronzer
Benefit Sugarbomb

Eyes: Sleek Storm palette
Rimmel Kohl Liner
Maybelline One by One mascara
Rimmel Exaggerate liquid liner

Lips: Sleek True Colour Lipstick in Bare All
Probably not the most exciting of combos to put together but it's safe for everyday. Sometimes if I'm feeling a little crazy I'll add some Barry M Dazzle Dust but at the moment this is a rarety, can't live too close to the edge!
Unless you're a bit of a hermit (which to be honest I am 80% of the time) you'll probs already know about the Benefit treats in Glamour this month. I'm guessing heaps of bloggers will do posts on these so instead I'm just going to chuck a picture of my face wearing them at you.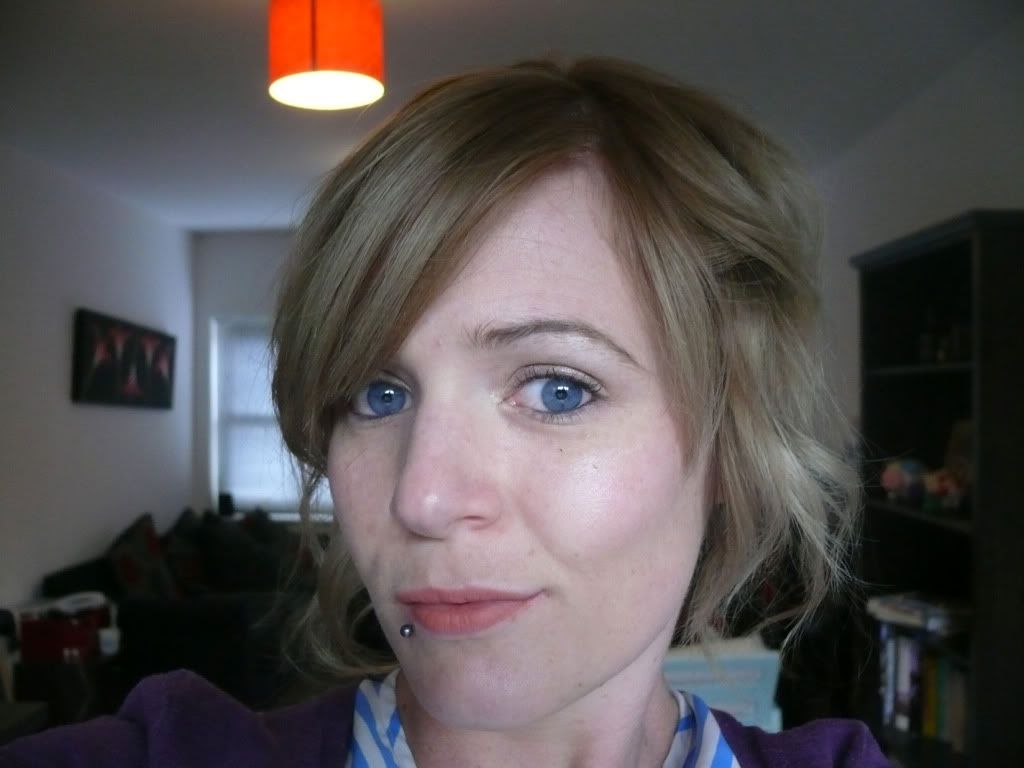 You can just about make out the slight shimmer of High Beam in this shoddy lighting. On a different note I tweeted today my predicament over my lip piercing, this little hole has been with me for quite some time now and I'm reluctant to let it close up and leave my face steel free, but I'm nearing 24 (ugh) and think it's starting to look a little manish? Thinking I might swap it for a more discreet ear piercing but I'm not too sure what to get, I did see a possibility on
Charlene's blog
and I'm tempted to pilfer the idea. Thoughts?
Wins tis almost the weekend! I wanted to celebrate early tonight with some cider/vodka but I scraped my last pennies together to buy three copies of the same magazine so it's going to have to be rum and smart price lemonade....