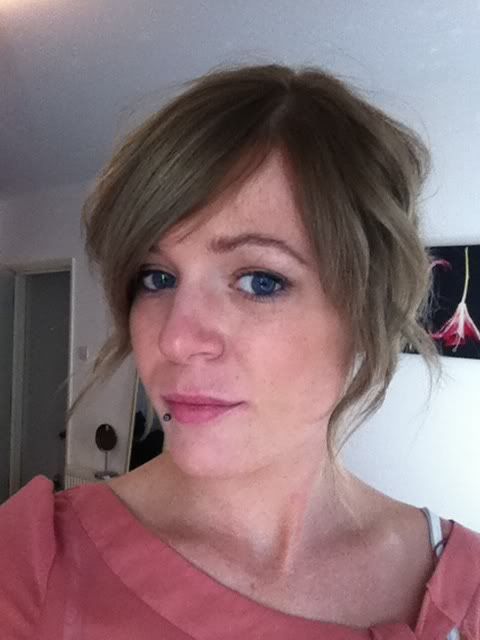 I finally managed to get some dye lobbed onto my barnett, it's not exactly the dark blonde I eventually picked after spending ages looking at the little snippets of hair in the book they showed me, but it's been two days now and I'm starting to cope with the loss of my blonde locks.
It's only temporary in an attempt to grow rapunsel style tresses in time for next year and I'm really hoping the lack of bleach in my life will help. Thoughts? Be brutal!
So as not to simply post two pictures of my posed pout face underneith a not-so-cleverly changed song lyric, I thought I'd share a few blogs I've been loving recently. I've been writing on my blog for a while now and think I'm finally past the nervous pleasantries and it's time to primp, preen, and expose my google reader.
The Little Curly Girl
- A fashion come lifestyle come beauty blog, the posts here are well written and funny. And Franki who writes it has nice hair.
Made-in-a-cup - Another fashion/lifestyle/beauty blog, this has some lovely posts and nice pictures. And just guessing but I'm assuming Meg likes Lady Gaga. She also has nice hair.
Katie Louise
- I love how there's always jibes about work on here, I can sort of relate. This is a bit more lifestyley with a dash o' beauty thrown in avec lots of snaps, especially foody ones which makes me hungry and has just done so again. I'd feel rude if I didn't mention Katie has nice hair.
Gem Fatale's Style Blog
- I'm going to assume everyone has read this before, but I'm liking how there's more posting action recently. Also has fantastic hair
I'm sensing a pattern here..."Hello I'm Eloise, I like rubbish reality tv and I'm looking for a blog with good hair and a gsoh"