In a Russel Brand voice...Exciting. I made this beauty wishlist and then literally five minutes later whilst googlereader-ing I saw on
Catherine's blog
that next month Glamour magazine will be giving away
FREE
benetint, posietint, and high beam! I'm going to be ruthless in my little Asda I tell you. Those slow people using the self serves better watch out....*shakes fist*
1) Benefit Posie Tint
-
I've wanted this for ages but at £24.50 I've stopped myself. It has heaps of excellent reviews but without seeing it in the flesh I don't really want to part with the dollar. My nearest benefit counter is quite a drive away so I cant easily go and try the products. Alsooo I get a little intimidated by the counter people, sometimes I feel they're a bit "oh...you're only buying
one
thing?" Anyway I will now ponder not! Come the 9th of June I shall be grabbing myself a freebie.
2) Chanel Vitalumiere Aqua -
I really want to try this. I've got a bit obsessed with having flawless skin and covering my rubbish redness at the moment and after hearing
Fleurdeforce
describe it as a sort of "second skin" I wanted to purchase. Shame its £31.65 in Debenhams. I cannot justify this unless my wages go up, and I dont think that's going to happen.
3) Benefit Bad Lash Waterproof mascara -
huge brush gives me huge lashes. I love this product and mine is about to run out.
4) Eyeko graffiti eyeliner pen -
I want me some cat eyes please. My own attempts with liquid liner make me more Cat Slater.
5) Clinique Redness Solutions Urgent Releif Cream -
My redness makes me cringe, which unfortunatly makes me more red. Double the cringe. This product will be mine one day and it will be my saviour.
6) Benefit Benetint -
I could pretty much type number 1 all over again here
7) Mac Surf Baby lipstick -
I don't actually want purple lips but the hibiscus shade looks lovely. Red but not overly red, a definite day and night shade.
8) Moraccanoil -
If you've read a few of my posts you probably think "stop going on about your hair" (i get that a lot) but it's actually depressing me at the moment. I've gone from bleaching it every month and having white locks to an awful, yellowy, two toned mess. I blame Toni & Guy who've told me that if I want it long, this sacrifice I must make. I've had this product used on me a couple of times and it leaves your hair mega soft and mega shiny, perfect for anyone with straw barnetts like me
and now for something I don't like very much....
This is becoming quite a wordy post for me. Although I've just thought adding this on the end might finish off rather bitter. Oh well this product has made me bitter!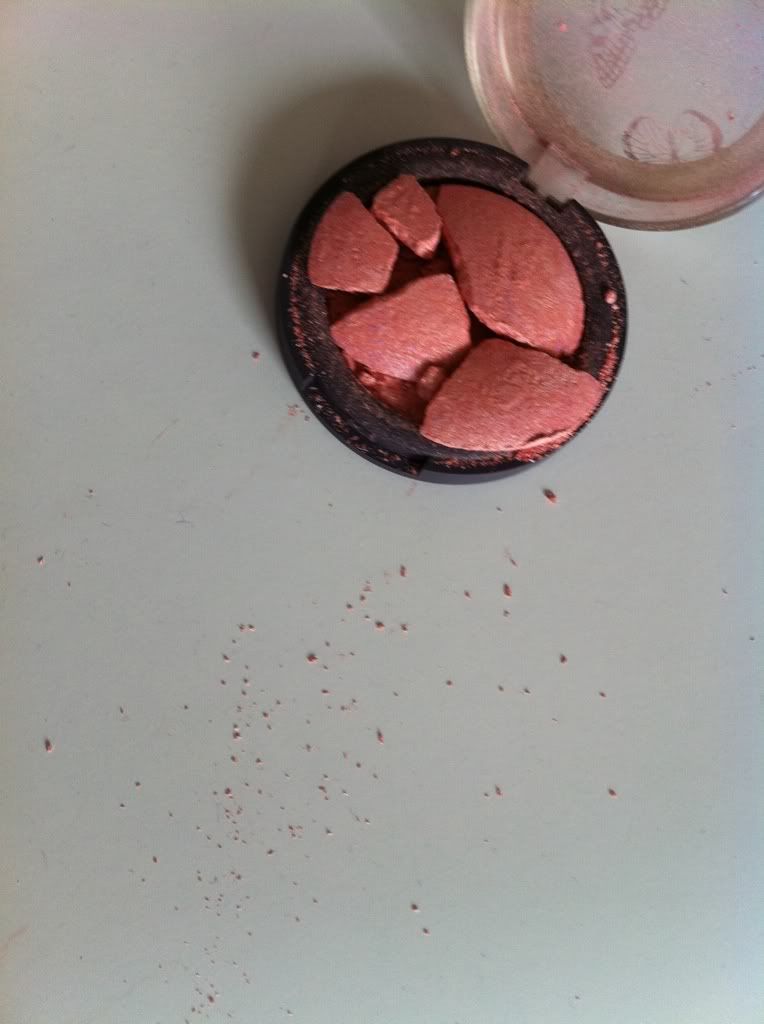 As if my Accessorize blush has cracked, I haven't even been carrying it around anywhere. It's been sat in my makeup bag which gets moved from one room to another
once
a day! I know I could still use it but it's a bit of a hassle, it crumbles everywhere and leaves a pink mess. Accessorize I feel cheated out of £4.00.
Has this happened to anyone else?