I may get slated for saying this, but I am quite the Saturdays fan. Ok their music isn't exactly that of a lyrical genius but it's catchy and bouncy and blasting out "Karma" whilst driving home from work on a sunny afternoon is always a win. Mollie and Frankie have been jumping from one fashion page to the next recently and I'm liking how they pair ridiculously expensive handbags (cut out from the picture below btw, who needs expense?) with Topshop. I managed to spot them last December in Selfridges purchasing said ridiculouslyexpensivebags which was the best celebrity spot of the weekend and probably told most people I know about it. Ugh I'll stop gushing now before I sound like too nuch of a fan girl/stalker.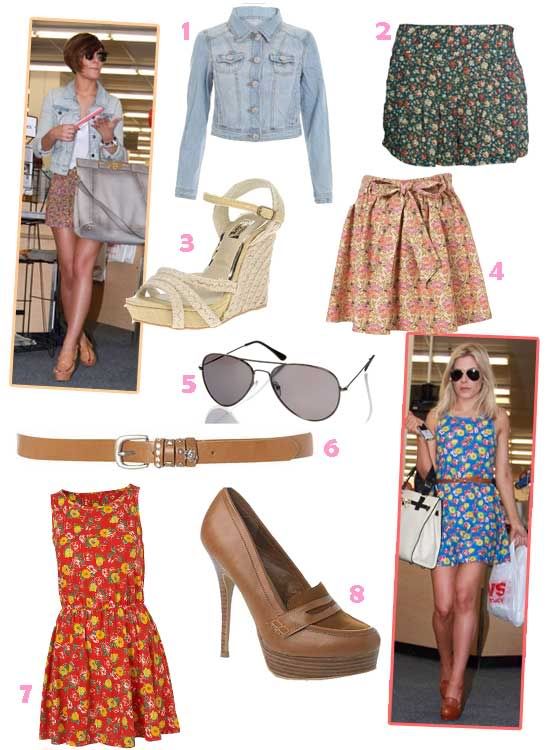 1) Denim Jacket £29.99 quizclothing.co.uk

2) Skorts £18 desireclothing.co.uk
3) Wedges £24.99 Bankfashion
4) Skirt £35 Topshop
5) Sunglasses £6 Boohoo.com
6) Belt £3 Matalan
7) Dress £28 Topshop
8) Tan Heels £24.99 Newlook
Apologies if anyone is liking the blue dress, I trawlled for a while but the closest I could find was Topshop's red jersey dress - tis nice though.

1) Sleeveless Shirt £28 Topshop
2) Belt £6 Dorothy Perkins
3) Paper Bag Skirt £35 Topshop
4) Heels £24.99 Newlook
Even though the majority of this is Topshop and probably will be seen in various town centres on various Saturday nights for the next few months - I actually love this outfit. I'd probably need to add a whole bottle of tan though to try and pull it off, I don't think my mole ridden pasty pins will be much of a match.
Is everyone having a good Sunday? I've spent the day making stew and cupcakes (again!) which are now stinking the flat out they bubbles and cool away, and searching for a bikini in tesco. I failed at the latter. Thinking now I should spend the money I had on some shiny new make up? The boyf also snapped a shamefull picture of me cheffing it up wearing the glammest of glam aprons. *crinnnggee*